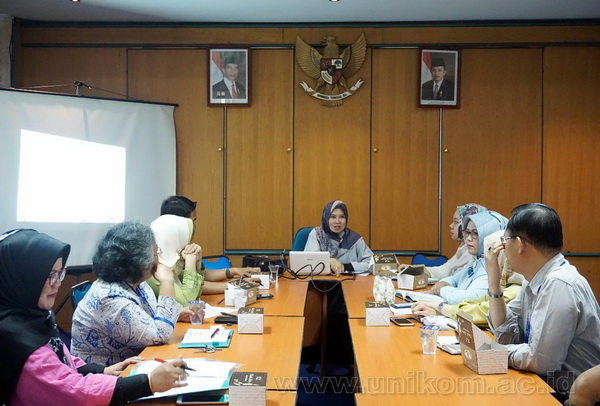 BANDUNG, UNIKOM-
Hanya tinggal menghitung hari, Unikom siap menjadi tuan rumah ASEAN
Workshop on Information Science and Technology
(AWIST) dan
International Conference on Informatics, Engineering, Sciences and Technology
(INCITEST) 2019 yang akan berlangsung pada 14 Juli-19 Juli 2019 yang akan melibatkan dosen-dosen Magister Sistem Informasi dan Fakultas Teknik dan Ilmu Komputer (FTIK). Mengingat kegiatan ini berskala internasional, maka dibutuhkan persiapan maksimal, sehingga Tim
International Conference
Unikom bersama sejumlah bidang kerja yang tergabung melakukan rapat koordinasi lanjutan di Ruang Seminar Kampus I Unikom, Rabu (10/07/2019).
Berbeda dengan pelaksanaan tahun sebelumnya, di tahun ini AWIST seakan melengkapi gelaran rutin Unikom sebagai agenda pembuka menyambut INCITEST 2019. AWIST sendiri adalah kegiatan yang terlaksana atas jalinan kerja sama antara Indonesia, Jepang dan Malaysia, yang terdiri dari beberapa perguruan tinggi diantaranya Unikom, Japan Advanced Institute of Science and Technology (JAIST), Universitas Kebangsaan Malaysia (UKM), Universiti Teknologi Mara (UiTM) dan University Malaysia Sabah (UMS).
Melalui rapat koordinasi yang dipimpin oleh Direktur Jurnal dan Publikasi Ilmiah Unikom Dr. Hj. Poni Sukaesih Kurniati, S.IP., M.Si., pembahasan inti rapat terkait dengan persiapan dari semua bidang koordinator yang terlibat yaitu 1) Kersekretariatan, 2) Acara, 3) Konsumsi, 4) Transportasi, 5) Logistik, 6) Kesiapan Ruangan dan 7) Keamanan.
Menutup agenda rapat, Poni menyampaikan rasa terima kasih atas kerja sama para koordinator untuk persiapan dua hajat besar Unikom ini. "...jaga selalu kesehatan, semoga langkah kita diridhai oleh Allah SWT." ujar Poni. Lebih lanjut Poni berharap bahwa tim yang terlibat dapat membangun sinergi dan hubungan yang solid satu dengan lainnya demi kesuksesan AWIST dan INCITEST 2019.